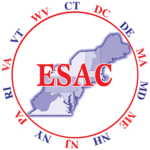 Sponsorship Registration
ESAC
2019

 Conference
We are pleased to announce sponsorship opportunities for the 2019 Eastern Seaboard Apprenticeship Conference (ESAC). ESAC is made up of apprenticeship representatives from 14 Atlantic coast states and the District of Columbia. ESAC is expected to attract about 400 conferees to The Westin Portland Harborview Hotel, Portland, Maine, May 20th – 24th, 2019.
To make ESAC more affordable than the average conference, we seek contributions to defray the costs of receptions, luncheons, conference paraphernalia and printing. We respectfully request that your organization sponsor or cosponsor an event to help us make this Westin Portland Harborview Hotel conference the best ESAC ever! Cosponsoring is a cost effective way to show support and yet share the costs with other locals or organizations to get the message of apprenticeship solidarity across loud and clear.
| Event | Cost |
| --- | --- |
| Breakfast | $3,500 |
| Continental Breakfast | $1,500 |
| Breaks (Per Break) | $1,500 |
| Annual Luncheon – Tuesday | $10,000 |
| Special Reception – Monday | $5,000 (First night location TBD) |
| Receptions (Each) – Tuesday and Wednesday | $5,000 (Co sponsorship) |
| Registration Bags | $1,800 |
Event sponsors will be given an opportunity to speak before the function and due credit will be given in the program booklet as well as signs indicating the sponsor for that particular event. We encourage you to take advantage of this wonderful opportunity to showcase your program or organization. Remember that all these events can be co-sponsored and that any contribution will help to make this a great conference!
ESAC 2019 CONFERENCE PROGRAM SPONSORSHIP
ESAC 2019 promises to be a very unique and exciting conference for its participants. In an effort to keep registration costs down, the ESAC Planning Committee is seeking your financial assistance to realize our goals. A traditional medium for apprenticeship programs, labor organizations, contractors and government agencies to advertise their specialties is the sponsorship pages in the conference ad book, which is also a great way to show support of ESAC! Submit your advertisement now. Do not miss this wonderful opportunity to greet your colleagues, to showcase your programs and to celebrate ESAC 2019!
| Advertisement | Cost |
| --- | --- |
| Half Page | $200 |
| Full Page | $350 |
| Middle Gold Page | $600 |
| Inside Front or Back Cover Full Color | $600 |
| Full Back Cover Full Color | $1,000 |