Connecticut: State of the State
ESAC 2022 State Report – Connecticut
Apprentice Office Details

Staffing – 14 – 1 director, 3 grant managers, 3 support staff, 7 apprenticeship representatives
Location – Serving all of CT out of central office located in Wethersfield
Key Initiatives are expanding further into healthcare apprenticeships
Statistics for 2021

Number of Apprentices – 6141
Number of New Apprentices-2918
Number of Completed Apprentices-1438
Number of Sponsors-1738
Apprentice Advisory Council – Connecticut State Apprenticeship Council, all Governor appointees

Number of members–12 from industry, public and union sectors (2 positions are vacant)
Issues – Council is a recommendary body, not an approval entity
Workforce Partnerships – CT Office of Apprenticeship is a partner with The Governor's Workforce Councilwhich has been tasked with setting strategy and policy for the state's Pre-K through retirement workforce pipeline, and to serve as the prime coordinator for businesses, educators, trainers, state agencies, state workforce boards, non-profits, and others. The primary goal of the Governor's Workforce Council is to ensure that Connecticut maintains the most accessible, equitable, aligned, and high-quality workforce pipeline in the country, ensuring our workforce remains agile through curricula and programming that is responsive to the needs of the 21st century economy. The GWC will partner with K-12, post-secondary, employers, and regional workforce boards to coordinate workforce policy and programs and ensure the overall strategy is reflective of the needs of the different areas of the state.
The Governor's Workforce Council Priority Areas
Create a system where businesses are setting the overall workforce agenda through robust partnerships with educators that focus on aligning curriculum with the needs of Connecticut employers and industries.
Partner with K-12 and postsecondary educational institutions to ensure our educational system is accessible, equitable, and aligned with in-demand career pathways in Connecticut.
Develop a comprehensive system of supportive services that increases participation in the workforce through increased access to childcare, transportation, and behavioral health services.
Build a comprehensive set of workforce and education data systems that provides resources to students or job seekers to learn about different programs across the state that will allow them to progress their overall education or enter the workforce.
Legislative Issues – During the 2021 legislative session, signed into law Public Act No. 21-141 – AN ACT CONCERNING THE LABOR DEPARTMENT'S RECOMMENDED CHANGES TO STATUTES CONCERNING APPRENTICESHIPS AND OTHER LABOR STATUTES – amended statute to add to definition of "apprentice" that the individual must be registered with the Labor Department, and added a definition of "pre-apprentice" that mirrors statutory change made during the 2018 legislative session.
Additionally, the act mended statute to correct that apprentice are not registered with the Connecticut State Apprenticeship Council, but rather are registered with the Labor Department and also mended statute to correctly reflect that the Connecticut State Apprenticeship Council recommends, rather than adopts, standards for apprenticeship and related instruction, as well as policies for effective administration of the apprenticeship statutes.  In addition, amend statute to correct that apprentice programs are adopted and registered with the Labor Department not the Connecticut State Apprenticeship Council.
Sec. 5. Section 31-22m of the general statutes is repealed and the following is substituted in lieu thereof when used in sections 31-22m to 31-22q, inclusive, and 31-22u, "apprentice" means a person who is employed under a written agreement to work at and learn a specific trade and who is registered with the Labor Department; "apprentice agreement" means a written agreement entered into by an apprentice, or on his behalf by his parent or guardian, with an employer, or with an association of employers and an organization of employees acting as a joint apprenticeship committee, which agreement provides for not less than two thousand hours of work experience in approved trade training consistent with recognized requirements established by industry or joint labor-industry practice  and for  the  number  of hours of  related  and supplemental instructions prescribed by the Connecticut State Apprenticeship Council or which agreement meets requirements of the federal government for on-the-job training schedules which are essential, in the opinion of the Labor Commissioner, for the development of manpower in Connecticut industries; "council" means the Connecticut State Apprenticeship Council; and "preapprentice" means a person, student or minor employed under a written agreement with an apprenticeship sponsor for a term of training and employment not exceeding two thousand  hours  or  twenty-four  months  in  duration,  and  who  is registered with the Labor Department. Sec. 6. Section 31-22o of the general statutes is repealed and the following is substituted in lieu thereof: The council may recommend minimum standards of apprenticeship and for related and supplementary instruction, encourage registration and approval of apprentice agreements and training programs, and issue certificates of completion upon the verification by employers or joint apprenticeship committees of the satisfactory completion of the term of apprenticeship. The council shall assist in recommending policies for the effective administration of sections 31-22m to 31-22q, inclusive, as amended by this act, and 31-22u. Such policies by the council shall not invalidate any apprenticeship provision in any collective bargaining agreement between employers and employees. All apprentice programs adopted and registered with the Labor Department under said sections shall be on a voluntary basis and shall be installed for the purpose of developing skilled workers for the service trades and industries of Connecticut.
Sec. 10. Section 10a-72d of the general statutes is repealed and the following is substituted in lieu thereof (Effective October 1, 2021):The Board of Trustees for the Community-Technical Colleges shall establish procedures for (1) the development of articulation agreements between the regional community-technical colleges and the Technical Education and Career System in order to ensure a successful transition to higher education for students attending a technical education and career school, and (2) the awarding of appropriate college credit for persons enrolled in and registered under the terms of a qualified apprenticeship   training   program,   certified   in   accordance   with regulations adopted by the Labor Commissioner and registered with the Labor Department under section 31-22r.
Budget

Funding stream – The CTOAT is funded by a dedicated budget line item afforded, in part, by collection of $110.00 annual fee per apprentice.

Grants

Awarded an ASE grant for apprentices enrolled in the evening adult CTECS Related Instruction classes to offset tuition costs via reimbursement upon completion of classes.
Awarded an SAEEI grant to create a Patient Care Technician Registered Apprenticeship program and register 1250 PCT's throughout the Yale New Haven Healthcare system. An individual must be a Certified Nurse Assistant (CNA), as a prerequisite, to be considered apprentice eligible.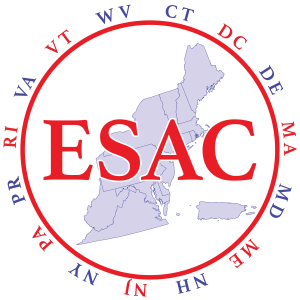 Puerto Rico
May 6 – 9, 2024
The respective state sponsors in the form of an ESAC Planning Committee are ad hoc and exist to design the annual conference for that particular state in that particular year.