Vermont: State of the State
Report for the Period April 2021 – March 2022
Apprenticeship Office Details
New State Director of Registered Apprenticeship, Jay Ramsey, joined Vermont Department of Labor on March 14, 2021.  Jay also serves an assistant director in the Workforce Development Division.  Prior to this role, Jay worked for Vermont's Agency of Education where he served as the State Director for Career Technical Education (CTE), and as an Assistant Division Director, overseeing and supporting CTE and Adult Education and Literacy (AEL) programs.  Jay's public sector career has been dedicated to connecting the public education system to the workforce development system and working to ensure equity, diversity, and inclusion are central drivers to that work.
The state apprenticeship team includes one Apprenticeship Field Rep in southern Vermont, one central support role, and a central part-time data and reporting role.
Our key initiatives for the upcoming year: process mapping and developing standard operating procedures, integrating technology to increase efficiency and effectiveness, training WIOA and state funded staff at the twelve American Job Centers across the state to increase capacity of the Workforce Development Division to support and expand Registered Apprenticeships, implementing RAPIDS, improving timeliness of reports to OA and other partners, re-convening the State Apprenticeship Council, and an overhaul of our state Registered Apprenticeship statutes.
Statistics
Number of Apprentices:                    779
Number of New Apprentices: 615
Number of Completed Apprentices: 182
Number of Sponsors:                         161
Number of New Sponsors:                106
Apprentice Advisory Council
The Vermont State Apprenticeship Council is comprised of twelve members; four ex-officio members and eight members appointed by the Governor. Ex-officio members are: Commissioner of Labor, Commissioner of Public Safety or designee, the Secretary of Education or designee, and the Director of the Apprenticeship Division who acts as the Secretary of the Council without a vote. Of the appointed members, three individuals represent employers, three individuals represent employee organizations and two are members of the public.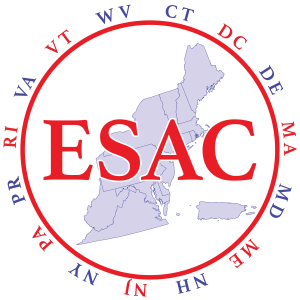 Puerto Rico
May 6 – 9, 2024
The respective state sponsors in the form of an ESAC Planning Committee are ad hoc and exist to design the annual conference for that particular state in that particular year.