Massachusetts: State of the State
Eastern Seaboard Apprenticeship Conference
Massachusetts: State of the State 2022
Massachusetts Division of Apprentice Standards
Staffing: 15 Full-Time Employees
• Director
• Program Director
• Grants Manager
• Quality Assurance (4)
• Office Operations (4)
• Apprenticeship Liaisons (4)
Location: Boston, MA
Key Initiatives:
• Since developing a State Apprenticeship Expansion Plan in 2018, the Commonwealth of Massachusetts has focused
on expanding apprenticeship to nontraditional industries; enhancing apprenticeship diversity, equity, inclusion, and
access, particularly in the traditional construction and building trades; and ensuring high-quality, demand-driven
programs with a customer service-led approach to apprenticeship growth and expansion.
• To realize these goals, the Division of Apprentice Standards (DAS), responsible for registering and ensuring the
quality of apprenticeship programs in the Commonwealth, was restructured in 2019 which included new leadership
and increased staffing capacity to 16 FTE as of the end of 2021. Subsequent program modernization efforts coupled
with increased staffing has enabled DAS to expand its operational capacity, increase efficiency, and significantly
enhance customer service.
• At the end of FY2021, Massachusetts had 9,906 active apprentices with an average beginning wage of $19.22 and an
average completion wage of $50.94. DAS also assisted 840 sponsors representing 2,861 employers. Approximately
10% of apprentices were in Expansion sectors with the manufacturing sector experiencing significant growth.
• In July 2021, the Division of Apprentice Standards replaced a decades old Access apprenticeship program database
with a new customer-facing online platform for all business transactions while incorporating new quality assurance
measures, EEO planning, and data transparency, and realized a significant reduction in customer wait times.
• Also in 2021, the Division of Apprentice Standards assisted the Massachusetts Bankers Association to register a
first-in-the-nation Credit Analyst apprenticeship program and scaled two all-important life sciences programs with the
Massachusetts Biotechnology Educational Foundation for Biomanufacturing Technician and Clinical Trial Associate
apprenticeships.
• In FY21 and FY22, the Executive Office of Labor and Workforce Development (EOLWD) received multi-year
apprenticeship grants from USDOL totaling $3.5 and $3.9 million, respectively. These grants target expansion in
occupations contributing to the safety, health, and quality of life of residents, grow new efforts in biotech and clean
energy, and target women, people of color, and other populations disproportionately affected by COVID for
apprenticeship opportunities.
• In FY22, EOLWD awarded more than $2.7 million in federal and state funding to 19 grantees that will train more
than 500 workers in health care, childcare, life sciences, technology and advanced manufacturing, including a
statewide manufacturing sponsor intermediary, and significantly expand diversity, equity, inclusion and access efforts
in the building and construction trades.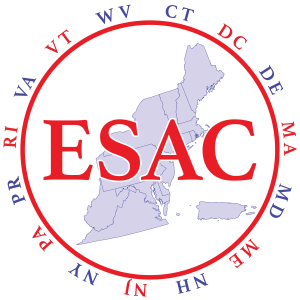 Puerto Rico
May 6 – 9, 2024
The respective state sponsors in the form of an ESAC Planning Committee are ad hoc and exist to design the annual conference for that particular state in that particular year.