District of Columbia: State of the State
DISTRICT OF COLUMBIA
STATE of the State Report
District of Columbia State Apprenticeship Agency:
Staff – 8
5 – Apprenticeship Training Representatives
1 – Program Analysts
1 – Support Staff
1 – Manager
Location – 4058 Minnesota Avenue, N.E., Washington, DC 20019
Key Initiatives 
Pre-apprenticeship training in partnership with apprenticeship sponsors that lead to direct entry to registered apprenticeships.
Youth Apprenticeship in partnerships with DC Public Schools and DC Public Charter School for high seniors that lead to direct entry to registered apprenticeship programs upon graduation. Apprenticeship sponsors are also partners in these initiatives.
Statistics:
Current apprentices Registered – 6,099
New apprentices – 513 (October 2021 to present)
Number of completed apprentices – 429 (October 2021 to present)
Number of Sponsors – 369
New Sponsors – 16 (October 2022 to present)
Apprenticeship Council – Regulatory
Number of members – 11
3- Employee (Labor) Representatives
3 – Employer Representatives
3 – Public Representatives
2 – Government Representatives
Legislations:
The District of Columbia has a mandatory apprenticeship law (DC Law 2-156) that requires any prime contractor or subcontractor, who contracts with the District of Columbia to perform construction, renovation work or information technology work with a single contract, or cumulative contracts, of at least $500,000 let within a 12-month period, shall be required to register an apprenticeship program with the DC Apprenticeship Registration Agency.
The District of Columbia introduced legislation (DC Act 22-512) to establish partnerships between the D.C. Department of Human Resources and D.C. High School graduates, who are DC residents with consideration priority for entry-level government employment jobs, and to establish apprenticeship in District government.
Budget – Local
Grants – The District of has several local grants for pre-apprenticeship training in construction and non-traditional industries that lead to direct entry in registered apprenticeships.
The D.C. Office also secured the ASE federal grant to expand youth apprenticeship and pre-apprenticeship initiatives.
The District of Columbia was established as a State Apprenticeship Agency on May 26, 1946.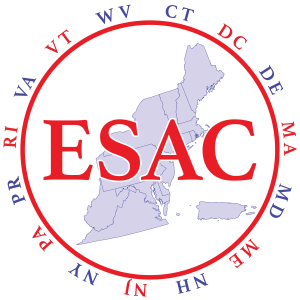 Puerto Rico
May 6 – 9, 2024
The respective state sponsors in the form of an ESAC Planning Committee are ad hoc and exist to design the annual conference for that particular state in that particular year.