Virginia: State of the State
Virginia State Report for ESAC 2022
Virginia has staff in the Richmond, Virginia headquarters that consists of Director, Patricia Morrison, Assistant Director, Kathleen Eddington, Education Specialists Danny Davis and Caly Emerson and Administrative Technician, Jake Schwartz.  In addition, we 3 Apprenticeship State Expansion staff members, Shannon Crooks, Sean McCusty and Juanita Harrison.  The grant is called the Commonwealth Registered Apprenticeship Future Talent (CRAFT) grant.
There are 6 Field offices that house 12 Registered Apprenticeship Consultants (3 spots are currently vacant).  COVID taught us that our previous, Virginia way of one to one, in-person customer service would have to be augmented with Cisco WebEx, Microsoft TEAMS, Zoom and whatever else cropped up.  Teleworking was ramped up; purchases of high quality headsets were required and morphing our business practices.  All of our planned outreach activities were replaced with virtual Brown Bag sessions or smaller scaled gatherings and Meet and Greets.
The Governor in Virginia did some drastic lock-downs and many of our Service Trade businesses shut for good.  We provided a liberal extension policy and transfer policy to those Cosmetologists, Barbers, Nail Technicians and Estheticians who could not complete their programs through no fault of their own.  We are slowly seeing shops start back up; many are new and many held out and are re-building their clientele.
We are fully immersed in RAPIDS but still attempting to convert Employer/Sponsors to User accounts. One observation about RAPIDS.  We know that are changes that occur with the sprints and the requests of the Engineers, but the on-going additions, deletions, changes to the data fields, or language seem to come very often.  This creates some issues with State, customized forms.
For purposes of meeting the outreach and education goals of the CRAFT grant, we formed 3 working committees. The first committee formed was the Returning Citizen Registered Apprenticeship Initiative (RCRAI).  This committee blends DOLI, the Virginia Department of Corrections, re-entry practitioners, workforce practitioners and some miscellaneous others as well as a cadre of Employer/Sponsors who have stepped in to become an employer of a formerly incarcerated individual.  We are building out processes that will endure and work for the community.  A second committee is the Youth Registered Apprenticeship Network.  This is run by Kathleen Eddington and focuses on WBL opportunities for RA programs for high school students.  The last committee, recently launched is the Everybody Builds Virginia committee.  This committee consists of individuals who either are in or advocating a certain group that has typically not been invited to the RA table.  We will be working on outreach and processes in all three of these committees to include more apprentices, serve more employers and get everybody in Virginia back to work.  No limits!!
Metrics for Virginia:
As of 5-4-2022, Year to date (October 1, 2021 thru 5-4-2022)
11162 active apprentices
1728 new apprentices
603 completion certificates were issued
2,685 active sponsors (1083 have zero apprentices currently)
190 new or reactivated sponsors
FY 2021 Metrics
11112 active apprentices
3960 new apprentices
1735 completion certificates were issued
2,685 active sponsors (1083 have zero apprentices currently)
319 new or reactivated sponsors
We have requested a no-cost extension of the ASE grant for 12 months and are awaiting that response from USDOL ETA.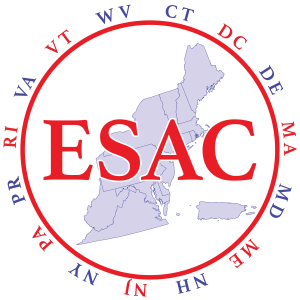 Puerto Rico
May 6 – 9, 2024
The respective state sponsors in the form of an ESAC Planning Committee are ad hoc and exist to design the annual conference for that particular state in that particular year.