New Jersey: State of the State
ESAC State Report for New Jersey 2022
Apprentice Office Details
US Department of Labor, ETA Office of Apprenticeship
Metro Star Plaza, Suite 201A
190 Middlesex Essex Turnpike
Iselin, New Jersey 08830
Key Initiatives
The USDOL Office of Apprenticeship in New Jersey will focus on the primary goal of establishing new and expanding on existing registered apprenticeship programs while at the same time The key strategies that the USDOL New Jersey Office of Apprenticeship will employ over the next year to accomplish these goals include:  Outreach, Promotion, Education and Expansion of traditional and non-traditional apprenticeable occupations such as health care, advanced manufacturing, information technology, transportation and logistics, financial support services, and construction sectors. By Better aligning secondary, post-secondary, adult education, and occupational training to meet labor demands unique to New Jersey. The team in the New Jersey OA office continually seeks to create career opportunities for underserved populations as well as identifying new sponsors and stakeholders both in industry and with our partners on the state level to increase the number of Programs and Apprentices in New Jersey.
Statistics FY22 as of 10/1/21
Number of Apprentices 7436
Number of New Apprentices 1081
Number of Completed Apprentices 758
Number of Sponsors 1055
Number New Sponsors 101
State Partnerships
The NJ Office continues to work with the NJ Dept of Labor and Workforce Development to develop and sustain programs that have received funding through the New Jersey Growing Apprenticeship in Nontraditional Sectors (GAINS) grant as well as connecting Pre-Apprenticeship programs to Registered Apprenticeship through the Pre-Apprenticeship in Career Education (PACE) grant program.
 Workforce Partnerships
Our workforce partnerships include Relationships with Unions, Employers, our State Apprenticeship Agency (SAA) Partners in the surrounding states, Veteran Agencies, Sector Partners, Community Colleges, Community Organizations, New Jersey Department of Workforce & Development (LWD), New Jersey State Employment Training Commission (SETC), Department of Education, Department of Corrections, Division of Vocational Rehabilitation Services, Department of Defense, Rutgers University, and the One Stop Career Centers.
Notable Achievements
The USDOL New Jersey OA Office continues to create and expand opportunities with the Bergen, Hudson, Morris, Camden and Ocean County Community Colleges by creating programs in Advanced Manufacturing, Healthcare, Culinary and traditional construction-based occupations. Despite the challenges that the COVID-19 pandemic presented, the NJ Office worked with the NJ DOE, NJ Dept. of Health as well as the NJ Dept. of Labor and Workforce Development to increase the use of RA as a workforce development solution to Public Sector entities as well as linking career opportunities to students enrolled in approved CTE programs of study. By working closely with the NJDOE CTE team. Long standing efforts culminated in the entrance into a RAP as a positive outcome on the NJ school report card.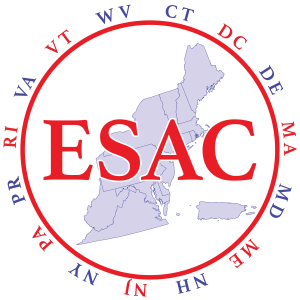 Puerto Rico
May 6 – 9, 2024
The respective state sponsors in the form of an ESAC Planning Committee are ad hoc and exist to design the annual conference for that particular state in that particular year.