Maryland: State of the State
Maryland: State Apprenticeship Report 2021
The year 2021 marked the 59th year that the Maryland Apprenticeship and Training Program (MATP) has
been registering, regulating, and serving the Registered Apprenticeship community in Maryland. The MATP
finished the 2021 year with 15 FTE personnel consisting of the following.

1

–

Director

3

–

Program Managers

2

–

Grant Managers

1

–

Administrative Support Specialist

8

–

Apprentic

eship Navigators
The Maryland Apprenticeship and Training Council (MATC) is made up of twelve members with
representation from all stakeholders: employee organizations (one of which shall be an employee) have five
representatives, employers retain five seats, and two are appointed from the general public. Three additional
members serve on the Council in a non–voting, consultant capacity. The Council meets six times per calendar
year.
In October 2021, Maryland exceeded 11,000 Registered Apprentices for the second year in a row, achieving
another record participation level. During 2021, the Maryland Department of Labor (MD Labor) continued
to make great strides in support of the state's apprenticeship system, including an infusion of additional
federal funding. Since 2016, a total of five different federal funding awards were received, totaling nearly
$13 million. These are denoted below.
Name of Grant Funding Amount Date of Original
Award
USDOL –
Apprenticeship
Accelerator Grant
$200,000.00 July 8, 2016
USDOL –
ApprenticeshipUSA
Grant
$2,000,000.00 November 1, 2016
2
USDOL –
ApprenticeshipUSA
Continuation Grant
$1,816,649.00 June 1, 2018
USDOL –
Apprenticeship State
Expansion Grant
$2,854,797.39 July 1, 2019
USDOL – State
Apprenticeship
Expansion Grant
$6,012,924.00 July 1, 2020
During the year, activities continued related to its three active federal apprenticeship grant awards.
Collectively, these funds have allowed for the expansion of the Registered Apprenticeship system by funding
a series of distinct activities that increase MD Labor's ability to serve, improve, and strategically scale the
RA model and to fund innovations aimed at using RAs as a tool for developing the economy and building
infrastructure. The second and third of these awards – the original and continuation funding –
ApprenticeshipUSA – State Apprenticeship Expansion Grant (AUSA/SAE) awards concluded at the end of
October 2021. Maryland exceeded each and every performance measure that was included as part of its
successive grant applications. Most significantly, the apprenticeship system within the state has employed a
series of best practices that can be and indeed have been replicated nationally. Maryland's work on this
initiative was cited extensively in a grant assessment report prepared for the U.S. Department of Labor
(USDOL) entitled "State Experiences Expanding Registered Apprenticeship: Findings from a Federal Grant
Program."
In accordance with these expectations, MD Labor is focusing on the following six goals outlined by
its grant programs.
1. Build the national apprenticeship system;
2. Align Maryland's apprenticeship expansion activities with national efforts;
3. Improve data sharing and integrity;
4. Engage in general business outreach, technology, and/or technical assistance;
5. Identify new industries and occupations to diversify apprenticeship programs; and
6. Increase the participation of diverse populations in apprenticeship opportunities.
The MATP continues to make progress with respect to the over $2.8 million in funding awarded through the
Apprenticeship State Expansion (ASE) grants in 2019. During the course of what has been an active year,
Maryland has seen a steady increase in the number of new apprentices registered and supported through the
ASE Grant. As of December 31, 2021, a total of 465 new apprentices were registered as a consequence of
the work of these awardees. In December 2021, USDOL granted MD Labor's request for a modification to
extend the ASE 2019 end date from June 30, 2022 until June 30, 2023.
In July 2020, the state was awarded just over $6 million in funding as part of the new State Apprenticeship
Expansion (SAE) grants – providing additional resources from 2020 until 2023. Major elements of this
grant's activities include the following.
Maryland has planned and is executing a statewide marketing campaign aligned with USDOL's national
messaging. MD Labor has worked to create promotional materials customized with local content in order to
3
increase the effectiveness of National Apprenticeship Week and similar events coordinated by USDOL. MD
Labor established an Employer Incentive Plan (EIP). Target industries include Healthcare, Information
Technology, Cyber, and Advanced Manufacturing. The EIP has been designed to incentivize employers by
reimbursing employers for a portion of the extraordinary costs of on–the–job learning. To continue expanding
Registered Apprenticeship opportunities into key economic hubs, MD Labor allocated funding from the State
Apprenticeship Expansion Grant to increase community college capacity for Registered Apprenticeship. In
order to continue expanding the connectivity between Maryland's K–12 local public school systems and the
Registered Apprenticeship system, MD Labor allocated $750,000 of the 2020–2023 State Apprenticeship
Expansion Grant to increase public school system capacity for Youth Apprenticeship. Seventy–nine new
apprentices have been supported by this grant as of 12/31/2021.
A celebration of RAs in the state through the declaration of National Apprenticeship Week in Maryland took
place for the sixth year in a row. During National Apprenticeship Week in November 2021, Governor Hogan
and Labor Secretary Tiffany Robinson announced that Maryland had reached 11,498 registered apprentices
currently earning and learning in the MATP – the highest participation rate in the history of the program.
Exceeding 11,000 registered apprentices for only the second time ever represented a significant milestone
made possible by the dedication and commitment of MATP staff to recruit new programs, sponsors, and
apprentices in Maryland. A total of twenty different events were held to commemorate this occasion.
To emphasize the work performed and growth of the program, the MATP conducted a comparison of the
four years prior to the state's first USDOL grant – January 2013 through September 2016 – and the five–year
period following the grant award – October 2016 through December 2021. Below are key data points for the
period prior to both the grant award and the transfer of the MATP to MD Labor's Division of Workforce
Development and Adult Learning (DWDAL).
January 2013 through September 2016
 23 New sponsors registered
 8 "Non–construction sponsors"
 6 Sponsors reactivated
 31 Sponsor reviews conducted
 Program had 118 overdue reviews when delivered to DWDAL
 Apprentice total high: 9,258 in September 2016
 Apprentice total low: 7,433 in June 2013
Contrast the above prior performance to the September 2016 through December 2021 present data points.
Since Transfer of MATP to DWDAL in October of 2016 to December 2021:
1. 118 New Sponsors registered
 Every MATC meeting has had at least one new program registered (most at a single
meeting – 12)
 A total of 87 occupations were registered for the first time in Maryland during the grant
period
 60 non–traditional "non–construction" occupations created
4
 413.0% increase from previous 45 months
2. 30 sponsors reactivated
 Exceeds previous 5 years by 24
 12 straight MATC meetings with a reactivation
 Staff has been given the goal of at least one reactivation per MATC
 400.0% increase from previous 45 months
3. 311 Sponsor reviews conducted
 Overdue reviews have been eliminated
 903.2% increase from previous 45 months
4. Apprentice total high: 11,498 October, 2021
 24.2% increase when compared to previous 45 month HIGH
 54.7% increase when compared to previous 45 month LOW
5. Apprentice total low: 9,332 February, 2018
 25.5% increase from previous 45 month low to DWDAL low
6. Participating Employers High: 3,820 in September 2019
7. Participating Employers Low: 3,567 in October 2016
In 2018, the groundwork was put in place to expand youth apprenticeship to be available statewide. MD
Labor, the Maryland Department of Commerce, and the Maryland State Department of Education (MSDE)
set a goal to continue growing the Apprenticeship Maryland Program (AMP) during 2021. As a consequence
of our combined efforts, since the June 2018 unveiling by MSDE of the AMP Career and Technology
Education (CTE) Program of Study, a total of 18 additional local public school systems have adopted the
model, bringing total participation to 20 of Maryland's 24 local school systems as of the writing of this report.
In 2021 alone, Calvert (February 2021), Anne Arundel (March 2021), and Charles (May 2021) counties
adopted the youth apprenticeship model.
Over the last year, AMP continued to grow its listing of eligible employers. Using procedures developed
under the Apprenticeship Maryland Pilot Program, the MATC approves eligible employers. By the end of
the 2020–2021 academic year, a total of 65 new eligible employers were approved by the MATC – raising
the number of eligible employers from 171 to 236. This represents over a 38% growth versus the prior year
and over 1,585% growth since program inception. Since the conclusion of the 2020–2021 school year (and
as of the publication date of this report), the total number of participating employers has grown to 285 and
the number of youth apprentices has grown to 128, as compared to 90 at the end of the last school year.
The 2021 year ended with the MATP having recorded a significant increase in the number of apprentices
and programs. Those statistics are as follows:

Statistics for Calendar Year 2021
Apprentices

–

11,404

New apprentices

–

3,319

Completed apprentices

–

1,429

Active

sponsors

–

181

New sponsors

–

23

Participating employers

–

3,833

Reactivated sponsors

–

4
5
Taken together, the consistent development experienced during 2021 will enable our state to continue to
bring new businesses and jobseekers alike into our vibrant apprenticeship system. In 2022, MD Labor will
continue its progress to increase the capacity of the MATP to meet the needs of both businesses and
jobseekers alike. Specifically, MD Labor will continue to grow the number of apprentices registered in our
state, with the goal of exceeding 2021's record level of performance. Additionally, as part of the State
Apprenticeship Expansion Grant – 2020, the Department set a goal of approving at least ten new
apprenticeship programs during 2022. To date this year, a total of 7 new programs have been approved.
MATP will unveil the informational videos being produced as part of the statewide marketing and outreach
campaign for apprenticeship.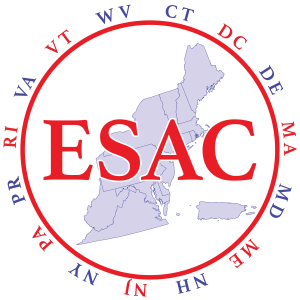 Puerto Rico
May 6 – 9, 2024
The respective state sponsors in the form of an ESAC Planning Committee are ad hoc and exist to design the annual conference for that particular state in that particular year.