Rhode Island: State of the State
2022 ESAC State Report
Rhode Island
 Apprenticeship Office
The Apprenticeship Office is part of the Rhode Island Department of Labor and Training (DLT), Division of Professional Regulation in Cranston, Rhode Island.  The department has steadfastly held staffing at 2.5 FTE (state director, ATR, and the part time support of an Implementation Aide).  Through the USDOL ASE and SAEEI grants, DLT funds a position in the Division of Workforce Development and a team at Building Futures to support apprenticeship.
Our partnership between the state DLT and Building Futures has entered its sixth year.  With the support of USDOL grant funding, Rhode Island has made the apprenticeship system more diverse and helped employers customize apprenticeship programs to meet employer needs. Today, Rhode Island's apprenticeship system better represents the diversity of Rhode Island's workforce.  In 2016, Rhode Island's apprenticeship system was focused on the building trades.  Over the past six years, the number of registered apprenticeship program occupations increased by a third.  One quarter (25%) of new apprentices registered in FY 2021 were women in comparison to 4% in 2016.  One-fifth (20%) of new apprentices identified as Latino or BIPOC apprentices, an increase from 12% in 2016.  Under the AAI grant, the number one goal was creating programs beyond the construction trades, under SAEEI technical assistance efforts are aimed at helping sponsors strengthen program quality and achieve greater diversity and inclusion in their programs.
Pre-apprenticeship programming is the most effective strategy for promoting diversity and equity in registered apprenticeship. Rhode Island has a process for certifying pre-apprenticeship programs that meet the quality criteria[1].  To be recognized as a pre-apprenticeship program, the Rhode Island Apprenticeship Office requires a relationship with a registered apprenticeship sponsor; to date, six (6) pre-apprenticeship programs have achieved this certification including in building trades (3 programs), landscaping, culinary, and manufacturing. In the building trades, all pre-apprenticeships are implementing the North American Building Trades' Unions' Multi‐craft core curriculum.
Apprenticeship Statistics
2334 Active Apprentices: 1685 in the building trades and 625 in non-trade programs
507 Active Sponsors: 469 in building trades and 35 in non-trade programs (March 2022)
1133 Apprentices started in 2021: 714 in the building trades and 419 in non-trade programs.
417 Apprentices completed in 2021
58 New Sponsors were registered in 2021 including programs for Personal Financial Advisors, Early Childhood Educators, and Emergency Medical Technicians.
State Apprenticeship Council
The 11-member Rhode Island Apprenticeship Council meets 10 times a year with occasional policy subcommittee meetings called as needed.  The highly engaged Council has been key to driving our continuous improvement forward.  At the request of the Council we have reached out to employers and apprentices, each with a separate survey to deepen our knowledge of what is going on in the field.  The apprentice survey asks about the fidelity of programs to the apprenticeship model, quality factors and benefits to the apprentice.  In 2022, we added questions about diversity and inclusion to the employer survey to create a baseline our work under the SAEEI grant.
Legislative Issues
There are bills in the legislature to establish apprenticeship utilization requirements for public school construction (H7027, H7125, S2596) and clean energy projects (S2740). Additionally, legislation has been introduced directing the Board of Education to institute policies establishing nontraditional pathways to earning a bachelor's degree through the inclusion of credits earned through apprenticeship (S2287).
Budget
Core funding and FTE for the Apprenticeship office is stable, supplemented by two USDOL grants (Apprenticeship State Expansion (ASE) and State Apprenticeship Expansion, Equity, and Innovation (SAEEI).
[1] Link to Application. https://www.apprenticeshipri.org/wp-content/uploads/2021/02/Pre-Apprenticeship-Program-Application.pdf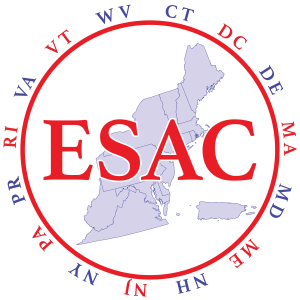 Puerto Rico
May 6 – 9, 2024
The respective state sponsors in the form of an ESAC Planning Committee are ad hoc and exist to design the annual conference for that particular state in that particular year.