Delaware: State of the State
Apprentice Office Details
The Delaware Office of Apprenticeship and Training at current, has a staff of five (5).
Jazelle Plummer (Manager), David Beaver (Labor Law Enforcement Officer II/Apprenticeship and Training Representative), Joe Olivere (Labor Law Enforcement Officer II/Apprenticeship and Training Representative), Ciera Daniels (Employment Services Specialist/Apprentice Navigator), Adriana McDonald (Employment Services Specialist).
The Delaware Office of Apprenticeship and Training is located at:
Delaware Department of Labor, Employment and Training Division, Fox Valley                                                     4425 N. Market Street Wilmington, DE 19802 (302) 761- 8330.
Key Initiatives:
Expansion into the Non-traditional Industries, Growth and Diversity, Equity and Inclusion in Registered Apprenticeship, Broaden Apprenticeship Awareness, Integration of DOL services into Apprenticeships, Dedicated Employer Sponsor Engagement and Sustainable funding.
Statistics:
The Delaware Registered Apprenticeship program currently has 1653 Active Apprentices, of which 115 are new as of Q1, 2022.  We have completed 102 Registered Apprentices since July 1, 2021 to present. Delaware has 420 dedicated Employer Sponsors and 10 new Employer Sponsors as of Q1.
Apprentice Advisory Council:
The Governor's Advisory Council Delaware is in the process, post pandemic, of reconvening.  Our council is currently outdated and new members are being selected and/or re-instated for new terms.  There are a few new initiatives to note.  Delaware seeks to increase opportunities for Registered Apprenticeships in the non-traditional skilled trades.  We are looking at Hybrid virtual programming with the DOE along with expansion in manufacturing and green energy.
Workforce Partnerships:
Delaware's workforce partnerships include the Department of Human and Social Services (DHSS), Department of Education (DOE), Division of Vocational Rehabilitation (DVR), Division of Visually Impaired and the Delaware Chamber of Commerce.
Legislative Issues:
No issues to report.
Budget:
Apprenticeship State Expansion Grant (ASE) $714,25.00
State Apprenticeship Expansion Grant (SAE) $450,000.00
Other Issues:
Delaware is currently rebounding from the crippling effects of the COVID 19 pandemic as are many other States.  We have found incredible resiliency through collaboration and teamwork and look forward to measured growth in the next year to come.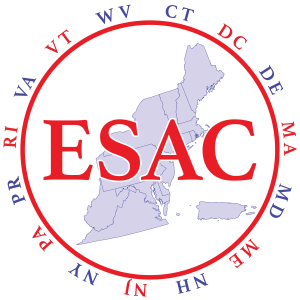 Puerto Rico
May 6 – 9, 2024
The respective state sponsors in the form of an ESAC Planning Committee are ad hoc and exist to design the annual conference for that particular state in that particular year.